Banana box bears, Wing Chan
June 2023
---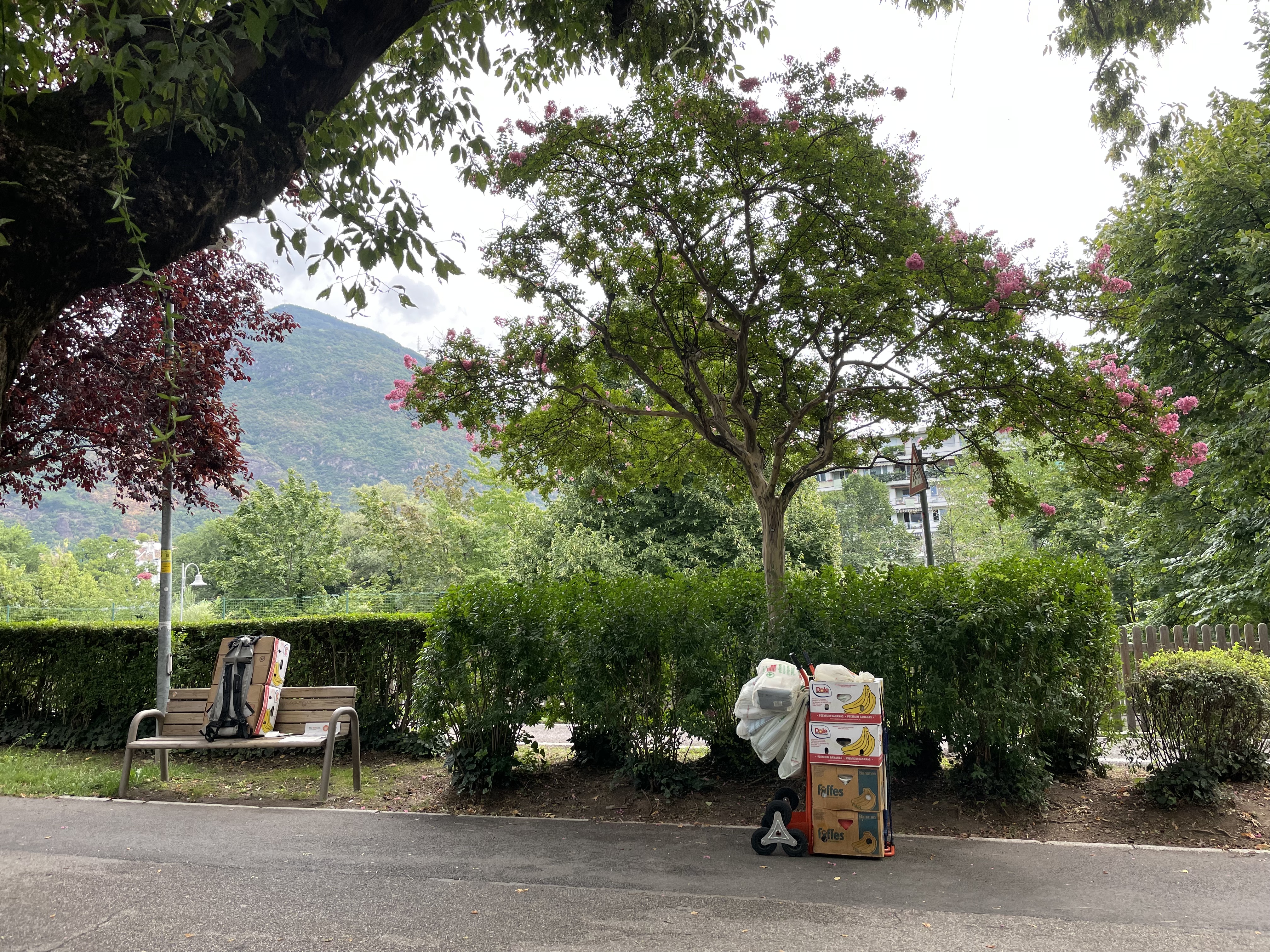 Bolzano, Italy, 2022. Photo: the author

My curiosity about banana boxes is growing. I have been looking out for banana boxes for about a year. I have seen them in Kilburn High Road food and vegetable stalls and Peckham Rye fruit markets in London, flea markets in Berlin and Kassel, and along the streets of Bolzano when I was on my way to visit a David Medalla retrospective exhibition in the Summer. Wherever I go, they are there waiting to catch my attention. They have become my best travel companions.

A banana box bears holes: a bigger hole on its end panels that functions as hand holes; two small ones below it for ventilation. Sometimes there are ventilation holes on the side panels, too. From the top, there is one large opening. In other words, a banana box does not conceal. It is always open.1

My interest in banana boxes began at the Offprint London book fair last May 2022. The publishing studio I am working at had a booth next to the Paris-based press After 8 Books and Leipzig-based Spector Books. Two of Spector's cartons arrived belatedly after the fair's official opening hour. I noticed instantly from its design that they were banana boxes. The vibrant banana iconography on the cartons made them hard to be mistaken. Picturing tennis players munching on bananas during their breaks in between long matches, which is not unlike the level of carbohydrates and labour required for participating in book fairs, I pointed to the cartons and asked across the table if they were still fresh to eat. My Spector friend laughed. She started unboxing and told me about their tradition of collecting banana boxes from local supermarkets to use them to ship books to international book fairs across the globe.

They are strong, she said, meaning banana boxes resist shocks and protect the books and the people who handle them. I liked it. I was also interested in how, because of the special design of ventilation holes, it created this imagery of the books needing to breathe. The box and the books inside cannot but confront the elements in the air. Moreover, banana boxes, no matter what brand, share similar sizes and are thus stackable. This explains why they often come in masses and are rarely spotted alone. There is a kind of solidarity in this form. Witnessing how banana boxes contain books and understanding the functions of their various design features, I began to think of the banana box as a timely metaphor: one to bring the role of book editors, writers and translators closer to that of the figure of 'cultural workers'.

In my journey of exploring banana boxes, I encountered enormous deaths. This wave of death came from the earthquakes and aftershocks that hit southeastern Turkey and northern Syria in February 2023. While tectonic movements are a natural process, the shock-resistant capacity of buildings and the reservation of evacuation lands are controlled by humans and the state. In the case of Turkey, the state set up new construction standards after the historic devastation of the 17 August 1999 Marmara Earthquake. Yet, in the following two decades, buildings were developed for economic growth at a speed too fast to observe disaster readiness. Designated evacuation points were sold off by the Recep Tayyip Erdogan administration to developers for shopping malls, business centres, and parking lots. The social reality in Turkey was in violation with the approved roadmap, the National Earthquake Strategy and Action Plan 2012-2023,2 which sought to make the country earthquake proof by 2023.

Throughout the cause of the roadmap and upon anniversaries of the 17 August earthquake, the Union of Chambers of Turkish Engineers and Architects (TMMOB) warned repeatedly in press statements that millions of structures in Turkey were unsafe and at risk of collapsing in the next big earthquake and that earthquake evacuation areas should not be repurposed, contending the authorities' care for profits more than human life.3 Indeed, the Erdogan administration had excluded TMMOB and its affiliated Chambers from being involved in the planning, design, production and supervision processes of public and private development projects since 2013, which was equivalent to the state's eviction of the public control mechanism. When the earthquakes hit Turkey on 6 February 2023 and took nearly 50,000 lives, the 1999 disaster and the TMMOB's repeated warnings became haunting fortune tellers of the colossal loss of life that could have been avoided if the state were not indifferent.

Two days after the 2023 quake, activist Ayşe Çavdar recounted her experience witnessing the state's negligence at the post-disaster sites in 1999.4 When the state was not present, there were people: civil society emerged. She was part of the civil coordination to aid the rescue and relief work. It was in that post-disaster solidarity that a generation of leftist thinkers and activists was formed. Many of them later studied Turkey's urban development policies and organised to fight against the state and market forces in resisting the redevelopment of Gezi Park, one of the last open green spaces in Istanbul, in 2013. They occupied the Gezi Park and the adjacent Taksim Square. Many of these activists were forcibly disappeared, tortured, or jailed. The same question of 'where the state is' was raised again and repeatedly in the recent 2023 disaster.

Thinking along this line, to be a socially conscious artist or practitioner in arts and culture, we must turn ourselves into cultural workers. To be a cultural worker is to situate one's work outside pure individual achievement and within the field of political struggle. This ideological position allows an individual to declare that the collective political education, social conditions study, and cultural training is part of your practice.5 How banana boxes are equipped with hand holes, which speak to manual labour, can be likened to a cultural worker's purpose to be in contact with the masses and build resistance against exploitation.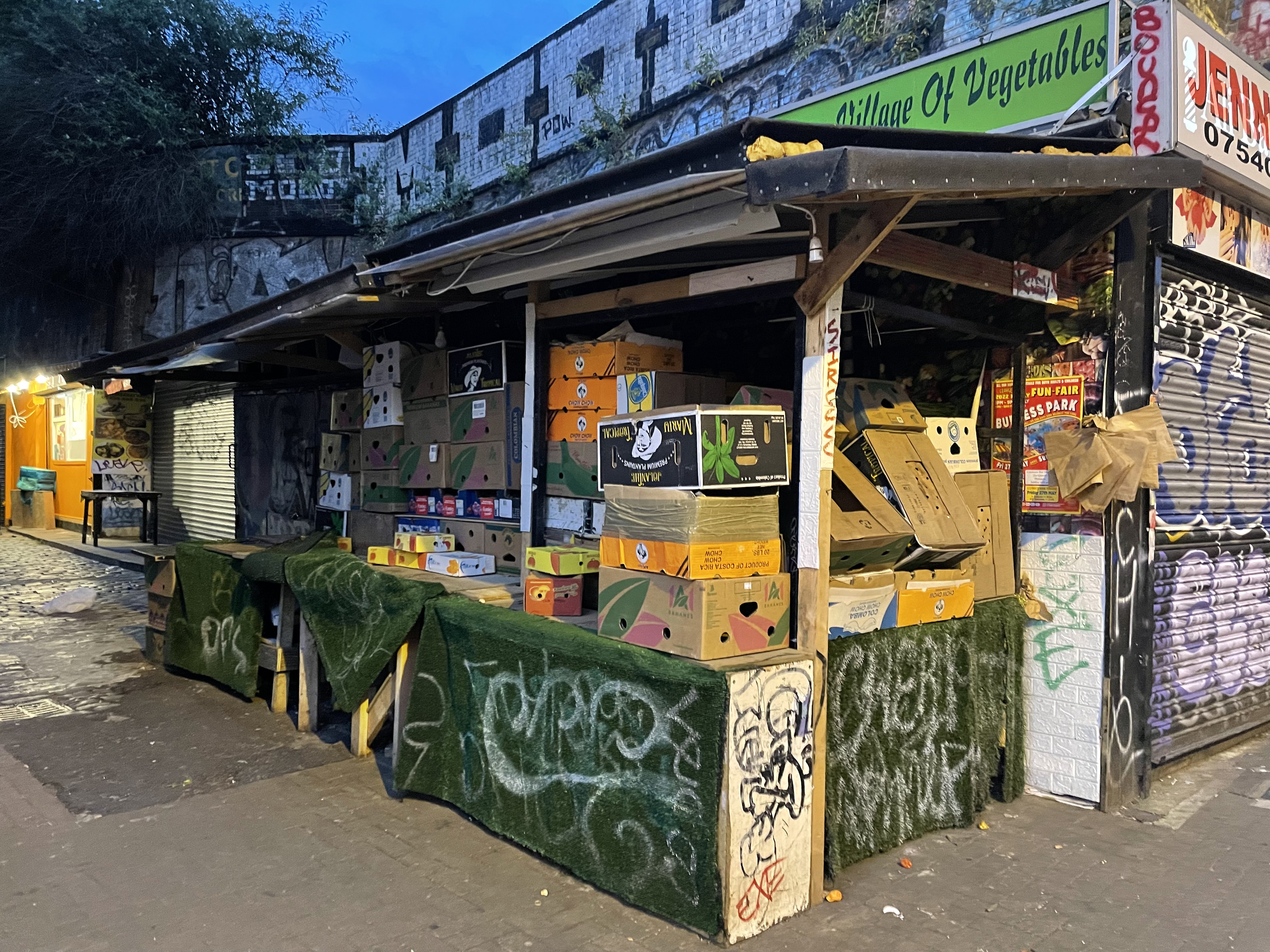 Peckham Rye, London, 2022. Photo: the author
A banana box is an enclosure with openings. Imagine the banana box with ventilation holes being a structure of civil society that defends breathing spaces for its inhabitants, and which simultaneously brings itself to interrogate the conditions, environmental or socio-political, of its own habitation. Identifying the class
6
of each box of bananas that suggests their relative economic values and the refrigerated container that offers fresh air supply or controlled atmosphere would be the cooperative task of a truck of banana boxes. A raised awareness of the journey would help the banana box monitor any manipulation legitimated by a state and market forces.
This is how the banana box shapeshifts into the figure of a civil society carried, transported, and shipped away by a cultural worker. And if political prisoners are often only allowed for books and writing materials as limited channels for education and expression, the textual production of cultural workers contributes greatly to solidarity and change.
Artist Merve Ünsal wrote about Taksim Square in the article 'with the breath of the wind like a small cloud'. Ünsal produced a two-channel radio transmission work,
With the Wind
(2021), that transmitted sounds of air passing through repurposed ventilation pipes alongside collated audio recordings from media about Taksim and its surroundings. She wrote,
... Near an increasingly policed Taksim Square, I hold on to the narratives and whispers about what the square has been and what the square can become, knowing and appreciating that there is no linear text that can be written about this place; the best I can hope for is to hold my ear against the ground, the trees, the walls, the winds that carry, the winds that erode.7

In fact, Taksim is only covered briefly, but it is present throughout the writing. The text begins with the loss of a grandmother, with that it introduces the wind as a howling force of penetration that can shake and tremble a sheltering structure. The other side of the wind is a breathing body which can hear the utterances, meaning narratives, accounts, and testimonials, that pass through it. The wind becomes an analogy of listening, sitting with pain, and staying with the rattle, which is what Ünsal believes that an artistic practice can hope to achieve.
8
I think of a banana box that bears holes and collects what the wind has been attuned to in its journey of travelling across borders.
Ünsal is also a translator for
The Dumpling Post
, a small run publication released in October 2022 reflecting on The Kayseri Dumpling Festival that was emerged in late 2019, in reaction to the state's banning of an international science conference titled 'The Social, Cultural and Economic History of Kayseri and the Region'. The conference was supposed to be organised by the Hrant Dink Foundation in 2019 to examine histories in different cities of Anatolia on the axis of memory and reconciliation. The staff, who often worked within academic spheres, instead found themselves in the position to learn how to coordinate a dumpling festival for over 500 people as an act of creative resistance against the oppressive regime. The questions that they asked before venturing into this journey were: 'How effective is responding [to the regime] with a written statement in today's world? And how can we build solidarity? In the face of this prohibition, how can we heal the despair we find ourselves in?'
9
A concrete picture of what collective action and education, such as a dumpling festival, can do is given by lawyer, writer, and human rights activist Fethiye Çetin on
The Dumpling Post
. Any paraphrasing would obscure its texture and thus, I provide the following long quotes from Çetin.
Oppressive regimes not only violate our rights but also take away our capacity to imagine new and creative forms of resistance. Many of us are focused on standing our ground, at whatever cost, rather than strengthening solidarity and challenging the oppression by producing and acting together. While it is important to stand firm, I think it is even more important to develop ways to overcome a crisis in order to move forward... The implicit message of this festival was: 'I have rights that are independent of what the state recognises and permits, and I am using my right to exercise these rights.' The justice of the law 'granted' by the state was questioned, and the ban was challenged... The dialogue established that day over food allowed us to build new, solid friendships by shunning the identities imposed upon us and expanding the cracks in the artificial boundaries drawn between us.10

Çetin also wrote about a longue durée vision of resistance,
As humanity has shown, even thousands of years ago, remembering is justice, forgetting is injustice. While remembering, we also carve a mark on the present. Like any cut, it hurts, but let's not forget that light also enters from there.11

The invitation of writing something for
no exits
' inaugural
Vessel
issue came at a time of the conjuncture of my obsession with banana boxes, the Turkey-Syria earthquakes, conversations with Merve Ünsal via our mutual friend Özge Ersoy, the murder of Ericson Acosta, and the reading of Jose Maria Sison's early writings in the sixties which were generously shared by Arianna Mercado and her friends whom I got to meet in London. All of these have helped me think about my role as a cultural worker in the publishing field and the formation of a civil society both in Hong Kong and in the new migrant community of Hong Kong people in the UK. As I started writing 'Banana box bears' I began voluntarily translating Ünsal's wind article into complicated Chinese. I usually translate to pay rent, but this is different. There was an urge to swallow words as I felt the howling wind, as I hoped to be able to listen to stay with pain, as I internalised the banana box to bear holes, make room, and fight anxiety, as I desired protection, collective political education, and solidarity.
This article must end with a light-hearted poem, for what was written is a little heavy to bear. In my research on the banana box, I found out that 'when a box is lifted via hand holes, the weight of the contents is supported by the bottom of the box, if not adequately secured, the bottom will give. This means that contents will fall through, resulting in content damage and possibly personal injury.'
12
The poem below will give us room to breathe.
Poised to the sun, like warning of violence,
its neck arches subtly hiding there
whatever wistfulness it has from
the uninvolved eye. And its worship
is gay, bedecked in reflected sunshine,
honest as dress of green the coolness
of rivers. This is the plant of courage
growing rank among the stones (how well
it hides the bitter of its sap) preening
without pretense, loving itself as much
as the source of its roots and ends
in whatever season or age, warming
November and December's gloom like,
wherever it can, a piece of sun.

This is Tita Lacambra Ayala's
Sunflowe
r written and published in 1960. Rather musical. Rather close to the soil and the people's lives. I wonder if Ayala was possibly talking about a field of bananas instigating self-determination against the hacienda system in Mindanao.
Somewhere in London, 2022. Photo by Maki Suzuki, whom I met at Offprint. I am grateful to Maki for the initial conversations on banana boxes and their design.
Wing Chan
is an assistant editor of Afterall's
Exhibition Histories
book series. Her current research focuses on the mobility of art and language. She takes part in the research project 'Three Contested Sites: the Worldly Fables of the Long 1990s' and the writing project 'World Weather Network' (both 2022–2023). She also moonlights as a translator.
---
¹ Further research taught me comprehensive knowledge about the shape of the banana box. packworld.com published a
lengthy article
on hand holes. This is the gist: "When a box is lifted via hand holes, the weight of the contents is supported by the bottom of the box. If not adequately secured, the bottom will give. This means that its contents will fall through, resulting in content damage and possibly personal injury. Even when the bottom is adequately secured, if there is not enough board between the hand holes and the top of the panel, the board can rupture from the force of lifting, likely causing the handler to drop that end of the box." The breathing holes, however, did not receive equal attention from packing professionals and industrial experts. The search brought me, instead, to metaphorical information about
'box breathing technique'
to fight anxiety. I kept both for mental notes.
² See the strategy and action plan in English:
https://www.refworld.org/docid/5b44c2b34.html
.
³ One of the press statements of warning made by TMMOB before the 2023 earthquake (17 August 2021):
https://www.tmmob.org.tr/icerik/17-agustos-depreminin-22-yilinda-bir-kez-daha-uyariyoruz-bilimin-teknigin-ve-doganin-sesine
. TMMOB's press statement released after the 2023 earthquake (27 February 2023):
https://www.tmmob.org.tr/icerik/tmmob-iskenderun-ikkdan-6-subat-depremi-aciklamasi
. TMMOB's investigation report on the 2023 earthquake (10 April 2023):
https://www.tmmob.org.tr/icerik/tmmob-tbmm-tarafindan-kahramanmaras-merkezli-depremlerin-sonuclarinin-tum-yonleriyle
.
⁴ See the free press:
https://medyascope.tv/2023/02/08/ayse-cavdar-ve-aysuda-kolemen-ile-genis-zaman-107-nerede-o-devlet
.
⁵ Taking this idea from Ericson Acosta's articulation of cultural workers. Ericson Acosta interviewed by Jonas Staal, 'I Am a Cultural Worker', in
New World Academy Reader 1: Towards a People's Culture
, Utrecht: BAK, 2013, pp.96-107. See
https://www.bakonline.org/wp-content/uploads/2018/12/NWA-Reader-1.pdf
.
⁶ As of May 2023, unripened bananas imported into the UK must follow the marketing standards set for bananas by the European Union in 2011. Bananas are classified into three classes: 'Extra' class, Class I, and Class II, with lower prices paid for the latter. See Commission Implementing Regulation (EU) No 1333/2011:
https://eur-lex.europa.eu/LexUriServ/LexUriServ.do?uri=OJ:L:2011:336:0023:0034:EN:PDF
.
⁷ See Merve Ünsal's full writing:
https://m-est.org/2022/04/12/with-the-breath-of-the-wind-like-a-small-cloud
⁸
Ibid.
⁹
The Dumpling Post
had a small print run of 2,000 and was distributed at the 17th Istanbul Biennial (17 September–20 November 2022). Hrant Dink Foundation and 23.5 Hrant Dink Site of Memory on civil society, "Our first reaction was to put forth our reaction to this, release a press statement and make an announcement, and, in fact, we did inform the public of our reaction. Then we asked ourselves the following questions: How effective is responding with a written statement in today's world? And how can we build solidarity? In the face of this prohibition, how can we heal the despair we find ourselves in?" See 'About Dumpling Post', in
The Dumpling Post
, Turkey: Hrant Dink Foundation, 2022, p3.
¹⁰ Fethiye Çetin, 'Thoughts on the Dumpling Festival' in
The Dumpling Post
, Turkey: Hrant Dink Foundation, 2022, p7. Translation by Ayla Jean Yackley.
¹¹
Ibid.,
p10
.
¹² Same as footnote 1.