Á. Birna Björnsdóttir: Messages from the Body, Jessie Krish
June 2023
---
Á. Birna Björnsdóttir,
Snertitaug
, 2022, Detail, Reykjavik Art Museum. Courtesy the artist. Credit: Vigfús Birgisson
Á. Birna Björnsdóttir is a visual artist based between Amsterdam and Reykjavík. Working primarily with installation and text, her practice is materially driven, concerned with the intangible, invisible and indiscernible, contrasted with the solid, voluminous and technological. Potatoes, sound, smartphones and solar energy feature across recent installation The Messengers (2023), publication SLEEP MODE (2022) and solo exhibition Snertitaug (2022). Björnsdóttir's ongoing research project How to Grow a Phantom Limb, the departing point for these works, explores notions of the intangible in relation to Björnsdóttir's own body, involving daily movement, meditation and writing exercises. Touching on the influence of Astrida Neimanis' book Bodies of Water: A Posthuman Feminist Ontology (2019), which repositions human bodies as fundamentally part of the natural world and not separate from or privileged to it, we discuss how Björnsdóttir leverages embodied knowledge to consider meeting points of the technological and natural, and the potentialities that flow between the artist, her materials and the sun.

The interview begins with a discussion on Snertitaug (trans. A Twitch and A Tug), Björnsdóttir's solo exhibition as part of Reykjavik Art Museum's D-Gallery series, which invites artists shaping the local contemporary art scene to hold their first solo show in a public museum. High up in the window of the D-Gallery sits a real potato, slowly germinating, whilst metal cast sprouts shoot out from the walls, hooking blue electrical wires to the perimeter of the exhibition space. Tangled in a complex circuit, the wires reach from solar panels installed on the other two windows, to a solar converter powering an animated potato on an LED screen, which in turn grows digital shoots.

Jessie Krish: I first connected the idea of a vessel to your practice when I detected a certain leakiness pervading the subject matter of your solo exhibition Snertitaug at the Reykjavik Art Museum, which centres around a sprouting potato sprawling in and beyond the gallery. This installation makes an equivalence between the potato using solar energy directly to grow, and its conductive properties, a conduit in a circuit that is capable of powering a screen, or as you put it elsewhere, sending an email. You reconfigure this dumb potato, heavy with its physicality, as a symbol or a vessel of abundance and part of the flow, in my reading, anyway. Could you talk about the potato and the flow in Snertitaug, and your attempts to capture or use energy as a sculptural material in your installation?

Á. Birna Björnsdóttir: I think it's interesting that you've started with the potato. I read this somewhere, that there is something in a potato that can conduct. Right? Because I didn't really know about that. Actually, someone told me about that afterwards, and then I got super excited. For me, the potato came in from another angle, just more as this alive thing. I was thinking about the potato as an object, or a being that has everything needed already stored within it, and all this potential to transform into something completely different.

I'm very fascinated by intangible materials and I had this idea of making a sculpture from electricity and to really treat it as an active material within my work, rather than as a means of activating an electric appliance and then hiding away the cables. The energy and electricity of Snertitaug is at the absolute core of the piece with elements that emphasise that, like the 100m of cables and the metal cast branches that have the sole purpose of lifting up the cables, giving them a more pronounced presence.

Walnuts appear in Snertitaug too. They also have a quality of being self contained, and sprouting. Is Snertitaug referencing cultural or symbolic ideas attached to a potato or a walnut?

Well, it wasn't so much specifically about the walnut and the potato, but I wanted to use something that was directly in my environment. In Iceland, potatoes are one of the staple vegetables. You can grow them in almost any condition. Also in the Netherlands, potatoes are a huge traditional part of the diet, and I just love it when walnuts start dropping from trees in Amsterdam in the Autumn. But I put other things in the installation to underline that it wasn't specifically about these two sprouts. It isn't included in the documentation, but behind a pillar there was a tiny silicone shelf with a chestnut. And then really close to the ceiling was a little shelf with an egg. My fascination lies more with one unit holding all this potential and energy to move itself forward, to transform.

You introduced me to the Posthuman Feminist scholar Astrida Neimanis and her book Bodies of Water: A Posthuman Feminist Ontology. Could you talk about the influence Neimanis has had on your practice and on this work in particular?

Neimanis and other Posthuman and New Materialist thinkers have really inspired my work. What attracts me to Neimanis' work specifically is the simple shift of looking at the human body as a body of water interrelated to other bodies of water, which changes my whole understanding of how I exist in the world. It's been so helpful to me and has sparked a lot of exploration, including my ongoing research project How to Grow a Phantom Limb, where I'm essentially trying to grow a supernumerary phantom limb for my own body.

Intangible materialities and experiences that exist somehow right outside of our immediate perception is a common thread in my work. With the [phantom limb] research, I feel that I can explore that intangibility from a more personal perspective, through my own body. My phantom limb exists somewhere right in between the body and the mind, because it has this physical feeling of a limb, but doesn't exist in the same material reality as the rest of my body. I approach the phantom as an opportunity to gain physical access to this other material dimension where I can touch or interact with all of the materialities that I'm busy with, like electromagnetic fields, digital material, passing emails, electricity, frequencies or even thoughts or ideas.

The research involves a daily practice of movement and visualisation, which I do every morning, and it has become a really fertile ground for me. The starting point of Snertitaug came from an exercise where I imagine an object moving within my body, to really get into my body before I try to grow something out of it. I was doing a residency at the Performing Arts Forum (PAF) in France one October and walnuts were everywhere, and I thought, oh, that's such a good metaphor! The walnut rolls around inside my body and then it breaks open at the point where my phantom [limb] starts, and sprouts out from there. It was a very helpful step in the phantom growing and it's how the walnut entered the physical work [Snertitaug]. Then I started using different things too, like eggs and potatoes, and I started really thinking about how energy is stored and when and how it flows again. A bit of a long backstory…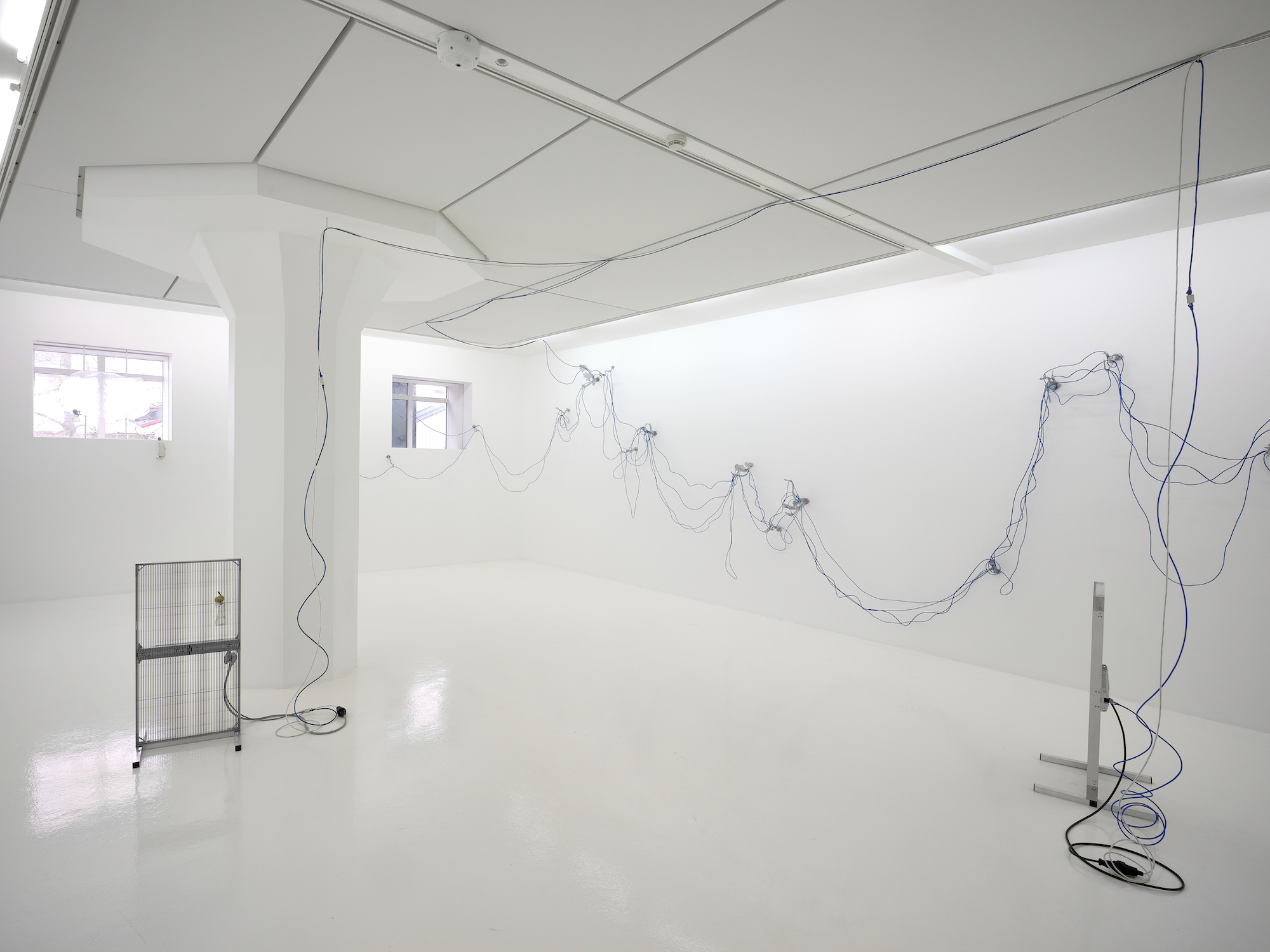 Á. Birna Björnsdóttir,
Snertitaug
, 2022, Installation View, Reykjavik Art Museum. Courtesy the artist. Credit: Vigfús Birgisson
This touches on a concern in your work that I found Neimanis' words helped me to articulate. To briefly gloss her 'watery phenomenology', it starts from the idea that our bodies are two thirds water and fundamentally part of the natural world. They are leaking and seething and their borders are vulnerable to rupture and renegotiation through kissing or sweating or drinking or peeing, etc. For me, the exploration of an energy flow in Snertitaug rejects ideas of a discrete or autonomous body, embracing the permeability of potatoes, and of the humans visiting the exhibition too. This enters the work in a very subtle way, questioning boundaries between objects.

... or bodies, or the attitude or meaning of boundaries. I find that so interesting about [Neimanis'] work and it really played a role in my thinking about the phantom limb experiment to have this potential of the body and of the mind. We are so plastic, capable of growing in many different ways, physically and mentally and both together. And when you think of it like this, what becomes interesting are the filters or membranes in between. What flows in or out and when. How does a potato know when to start sprouting?

Another subject matter you've worked with to probe the boundaries of physicality and immateriality is the smartphone. Your publication SLEEP MODE deals with chat message culture and post traumatic stress. It begins with a scene in which the narrator receives a message from their ex-partner containing only a shrimp emoji. Following this event, shrimps start to appear everywhere in the narrator's life: in a clump of jam, on their new lover's pillow, and they also eat a plate of shrimps. Can you say more about the shrimp?

At its core I think the text is busy with the materiality of messaging as a means of communication and the huge effect a small bubble of words or symbols can hold for a person. I got particularly interested in emojis and how they take on symbolic meanings far beyond what they display and how they relate to older traditions like dream symbols.

The fried shrimp was actually an emoji sent to me at a strange moment from a person I had a complicated relationship with, that was mostly unfolding via chat messaging. This single emoji was so confusing to me yet much more revealing than the things this person was actually saying and it completely got stuck in my head. It became an important factor for me in realising how traumatic that relationship had been. SLEEP MODE is definitely the most personal work I've made so far and it's a part of this more personal approach to art making that I feel the phantom limb research is opening up for me through an embodiment layer that has entered my work.

I saw the shrimp as a metaphor, or vehicle, for a shift in perception, repositioning the throw-away ephemerality of digital messaging in a world of physical and embodied experience. There are lots of moments in the narrative at which the descriptions of the narrator blur with the figure of the shrimp, for example, wearing 'a peach jacket,' or 'curled into a duvet, feet poking out.' Could you say more about the narrator's identification with the shrimp?

Yeah, I think it's a really good question. I never thought about it in that exact way, but I guess this is about trying to move the pixels into reality. There's a need to make it real-er by living it, eating it, seeing it, being it, in order to understand it. There's this deep fear of the shrimp, but to the point that the person is actively seeking it out. The shrimp needs to be confronted, but mostly, when the narrator encounters the shrimp there is a reaction of paralysation and powerlessness, a classic form of disassociation that often comes with PTSD.

There's a scene in SLEEP MODE in which the narrator is in a dream or sleep state, lying on a beach in a T-shirt. The sea is tickling their toes, the phone is to their side, sand is covering them. There's a transition from the human and technological to the... I don't want to say the natural, but…

… elements or something like that. Yeah. There's a bit of zooming out. The person seeing the chat and themselves in a bigger context, or a bigger relation. There is a certain timelessness as they feel the sun on their body and their smallness next to the ocean. It's the last scene in the first part of the book and I think this zooming out is powerful. It allows the narrator to make a choice to stay in their body and leave the fried shrimp behind. Or at least see its significance diminishing in the bigger picture. And from there, the book moves into a different sort of flow.

Can you say more about the formal aspects of SLEEP MODE?

The book itself is shaped like an iPhone with rounded corners and a similar weight and thickness, and the first half of the narrative is arranged as a continuous stream of chat bubbles. They are one-sided though, more like a diary or a chat monologue. Midway through, the pages become black, the text is at a woozy angle and we're beyond the phone, beyond the chat. At this point, I wanted to shift to a different kind of messaging, from the self to the self, almost as if this part is in dialogue with the subconscious or inner knowledge stored in the body.

How is the phantom limb research directing your practice now?

At the moment I'm exhibiting a new work in the group exhibition Eavesdrop (in SET Lewisham, London) that also uses solar energy. I've started thinking of sunlight and electricity as my collaborators and I think this shift also originates in the phantom research. Seeing how a ray of sunlight can generate a current and power an action gives me this 'wow' feeling every time. The simplicity of it helps me understand that all this energy that we take for granted is coming from the same source, in the sense that everything is dependent on each other, the leaky vessels are all connected.

The new work uses small solar panels that attach to windows. I wanted them to translate the amount of energy that they are detecting or receiving into sound, so they immediately convey the external circumstances, essentially how much sunlight is available – how the clouds are moving, the effect of the seasons. I had this idea of making a solar choir that would be spread out over the gallery windows. They chime insistently, articulating light nuances we might usually take in subtly or even unconsciously. Like when you're sitting in your house and working on your computer and suddenly the sun comes out and you just have this… feeling. An internal shift without necessarily being conscious of why. I called the piece The Messengers. Underlying this work is the idea of messages from the body, and where they meet rational or cerebral knowledge.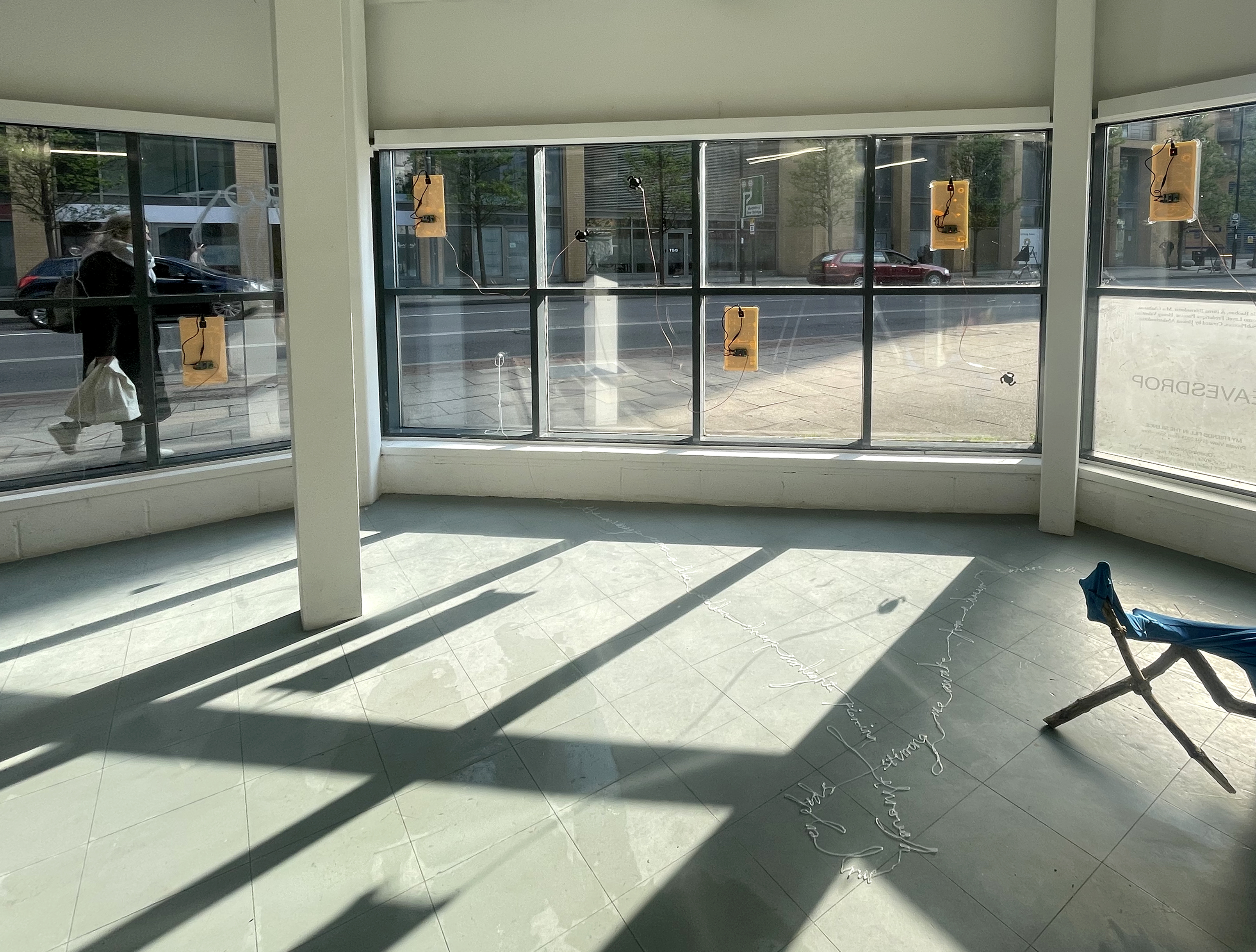 Á. Birna Björnsdóttir, The Messengers, 2023, Installation View, SET Lewisham. Courtesy the artist

Á. Birna Björnsdóttir
is a visual artist interested in the uses of technology in our daily lives and the disparity between embodied experiences and factual knowledge. Frequently engaging intangible materials such as sunlight, electricity, sound and electromagnetic fields in her installations, her works navigate between worlds of various materialities. Birna has co-founded various artist-run platforms such as the summer camp and artist network Laumulistasamsteypan, GSM exhibition space in frequencies and at7 project space. Birna holds a BFA from Gerrit Rietveld Academie and her work has been exhibited in the Reykjavík Art Museum, Art Rotterdam, Laurel Project Space, Amsterdam, the North Atlantic House, Copenhagen, Sequences Biennial, Reykjavík and the Living Art Museum, Reykjavík. For more:
www.bbbirna.info
and
@b__i__r__n__a
Jessie Krish
(she/her) is a cultural worker based in London. Her interdisciplinary research has explored how conflicts, struggle and everyday practices shape the civic space, in contexts including social housing, climate policy and on football pitches. Engaging critically with participation as an artistic method, she frequently collaborates with artists and non-artists in and beyond a gallery context. Jessie works part time as Projects Curator & Gallery Manager at Cell Project Space, where she recently curated Money for Nothing and is facilitating the CEED Feminisms research network. She is a co-founder of artistic/ domestic project space Middlesex Presents. In 2022 Jessie presented commissioned artist projects at CCA Glasgow, FormaHQ, London and Turf Projects, Croydon. She attended Laumulistasamsteypan summer camp in 2019.